Universal Nutrition Nutrition Animal Pak Powder 388g
1007607PAKPW1(base)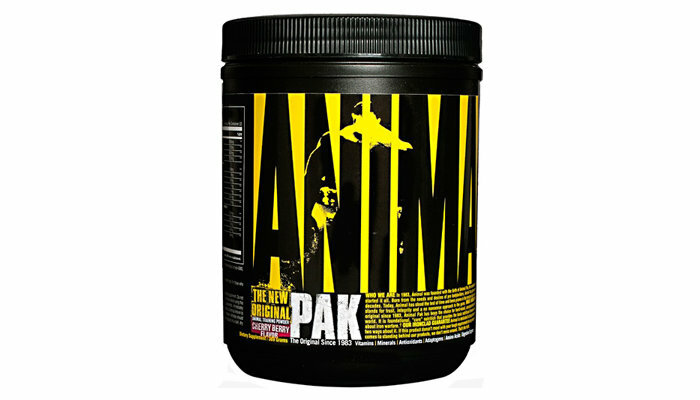 For hard-core bodybuilders and strength athletes, nothing beats Animal Pak for maximizing gains in muscle mass, strength and performance. There is no better nutritional weapon available to fuel intense workouts. Spawning many imitators, the original Animal Pak is still loaded with the most advanced, highest quality bodybuilding nutrients.

The #1 selling training pak in the world for seventeen years straight. Since 1984, more competitive bodybuilders have cut their teeth on the Animal Pak than any other bodybuilding supplement in history. Why? Simple. Animal Pak gets the job done. It works. First time. Last time. Every time.

Nature, in all her ingenuity, has designed the human body as the ultimate performance machine. Fact is, since the dawn of mankind, our bodies have changed very little. When it comes to feeding our muscles, we still need the nutrients we get from our diets. But when it comes time to grow our muscles in a freakish way, we need the right combination and mega-doses of essential amino acids, carbs, vitamins, minerals and essential fatty acids (EFAs). Only Animal Pak has what you need. You're the kind of primal beast who trains with Animal intensity. You need plenty of the above, plus that little something extra only Animal Pak provides. That's why we've also loaded the Animal Pak with performance optimizers such as PAK, IGF colostrum, nucleotides, lipotropics, L-arginine, Protogen A, eleuthero, and the like.


Why should you care? The greater your training intensity, the faster and larger these gaps grow over time. When this happens you eventually hit a plateau. You stop growing. Maybe you've already hit this wall. To make matters worse, if you take other supplements, these same gaps begin to render those expensive supplements useless. Many of today's supplements rely on enzymes and other substances in your body to "activate" them. Nutrititional gaps mean these key activators may not function at all, so you may be wasting all of your hard-earned money on supplements that won't or can't work. Consider the Animal Pak as the cast iron skillet of your supplement program, your body's first line of defense. If you train with weights, then you absolutely need to train with the Animal Pak. Remember, while most supplements have come and gone, precious few have stood the test of time. When you're ready for the best, step up to the most trusted name in serious bodybuilding nutrition: Animal Pak.
388 Grams

Orange

Serving Size 17.63 (2 scoops)

Servings Per Container

22

Amount Per Serving

%DV

Calories

24

Total Carbohydrates

3 g

2%*

Dietary Fiber

.3 g

1%*

Protein

3 g

6%*

Vitamin A (As Carotenoids [β-Carotene, α-Carotene], Acetate)

9,900 IU

198%

Vitamin C (as Ascorbic Acid, Ascorbyl Palmitate)

1 g

1,667%

Vitamin D(as Cholecalciferol)

680 IU

170%

Vitamin E (as d-α, d-β, d-γ, d-Δ tocopherols & tocotrienols)

300 IU

1,000%

Thiamin (as mononitrate)

76 mg

5,067%

Riboflavin

76 mg

4,471%

Niacin (as niacinamide)

82 mg

410%

Vitamin B6 (as pyridoxine AKG, pyridoxine HCl)

180 mg

9,000%

Folic Acid

400 mcg

100%

Vitamin B12 (cyanocobalamin, methylcobalamin)

50 mcg

833%

Biotin

300 mcg

100%

Pantothenic Acid

76 mg

760%

Calcium

170 mg

17%

Phosphorus

30 mg

3%

Iodine (as potassium iodide)

150 mcg

100%

Magnesium (as oxide)

400 mg

100%

Zinc (as oxide)

30 mg

200%

Selenium (as sodium selenite)

50 mcg

71%

Copper (as sulfate)

600 mcg

30%

Manganese (as sulfate)

5 mg

250%

Chromium (as chloride)

60 mcg

50%

Potassium (as sulfate)

250 mg

7%

Amino Acid Complex

Alanine

147 mg

**

Arginine

1,370 mg

**

Aspartic Acid

318 mg

**

Cystine

75 mg

**

Glutamic Acid

364 mg

**

Glycine

56 mg

**

Glutamine

139 mg

**

Histidine

58 mg

**

Isoleucine

185 mg

**

Leucine

325 mg

**

Lysine

269 mg

**

Methionine

62 mg

**

Phenylalanine

101 mg

**

Proline

166 mg

**

Serine

140 mg

**

Threonine

191 mg

**

Tryptophan

49 mg

**

Tyrosine

88 mg

**

Valine

175 mg

**

Performance Complex

Uni-Pro Blend

3,270

mg

**

(Whey Protein Isolate, Liver, Beef Protein Isolate, Eleutherococcus senticosus [root], Hawthorne [berry], Milk Thistle [seed], Citrus Bioflavonoids [peel])

Carnitine

25 mg

**

Choline Bitartrate

250 mg

**

Inositol

125 mg

**

Para-Aminobenzoic Acid

400 mg

**

Pyridoxine α−Ketoglutarate

210 mg

**

Antioxidant Complex

Alpha Lipoic Acid (ALA)

100 mg

**

Coenzyme Q10 (CoQ10)

5 mg

**

Grapeseed Extract

50 mg

**

Lutein

1 mg

**

Lycopene

1 mg

**

Pine Bark Extract

200 mg

**

Kelp (whole plant)

10 mg

**

Digestive Enzyme Complex

Bromelain

100 mg

**

Inulin

250 mg

**

Lipase

10 mg

**

Papain

64 mg

**

Acid Protease

64 mg

**

* Percent Daily Values are based on a 2,000 calorie diet.

** Daily Value (DV) not established.

Other Ingredients:

Natural & artificial orange and vanilla flavors

, citric acid

, arginine alpha-ketoglutarate

, malic acid

, calcium carbonate

, silicon dioxide

, sucralose

, acesulfame potassium

, carnitine fumarate

, calcium citrate

, yellow #5

, lecithin

, yellow #6.

CONTAINS: Milk and soy.

Made in a GMP facility on equipment that processes milk, soy, egg, peanuts, tree nuts, fish, shellfish, and wheat.

INGREDIENT NOTES: VegPeptase 2000™ is an acid stable protease enzyme blend derived from the fermentation of non-GMO, nature-identical strains of Aspergillus niger and Bacillus subtilis.
Directions For Animal Pak:
Paks: Take 1 to 2 packs with breakfast or any other meal, with plenty of water. For those who compete or are training with higher intensity, two packs is suggested.
Powder: Take 1 to 2 scoops with 6 – 12 oz of your beverage of choice with breakfast or any other meal. For those who compete or are training with higher intensity, two scoops is suggested.
Brand:
Universal Nutrition
VAT Registered 0-8335-51002-73-1
We generally will ship and send the tracking number for your whey protein and supplements within 30 minutes of your order during regular business hours! (Excluding public holidays).
PhuketHealthShop.com was founded in 2009 by Nai Harn Gym with the simple idea of providing affordable whey protein, bodybuilding supplements, and vitamins to people living in Thailand. What began as a very small operation shipping only a few orders a day, has steadily grown into a business serving over 50,000 customer across Thailand in just 7 years.
PhuketHealthShop.com is now pleased to carry over 200+ whey protein and supplement products from leading companies such as Optimum Nutrition, Universal Nutrition, MuscleTech, Ultimate Nutrition, Six Pack Fitness, and Grizzly Fitness to name a few.
We offer fast FREE Shipping*, and unparalleled reliability and trust our customers have come to expect.