Yes! We are 100% Operational and Ready to Serve Our Customers During Covid-19
Ultimate Nutrition ProStar Whey 1lb
99071001917(base)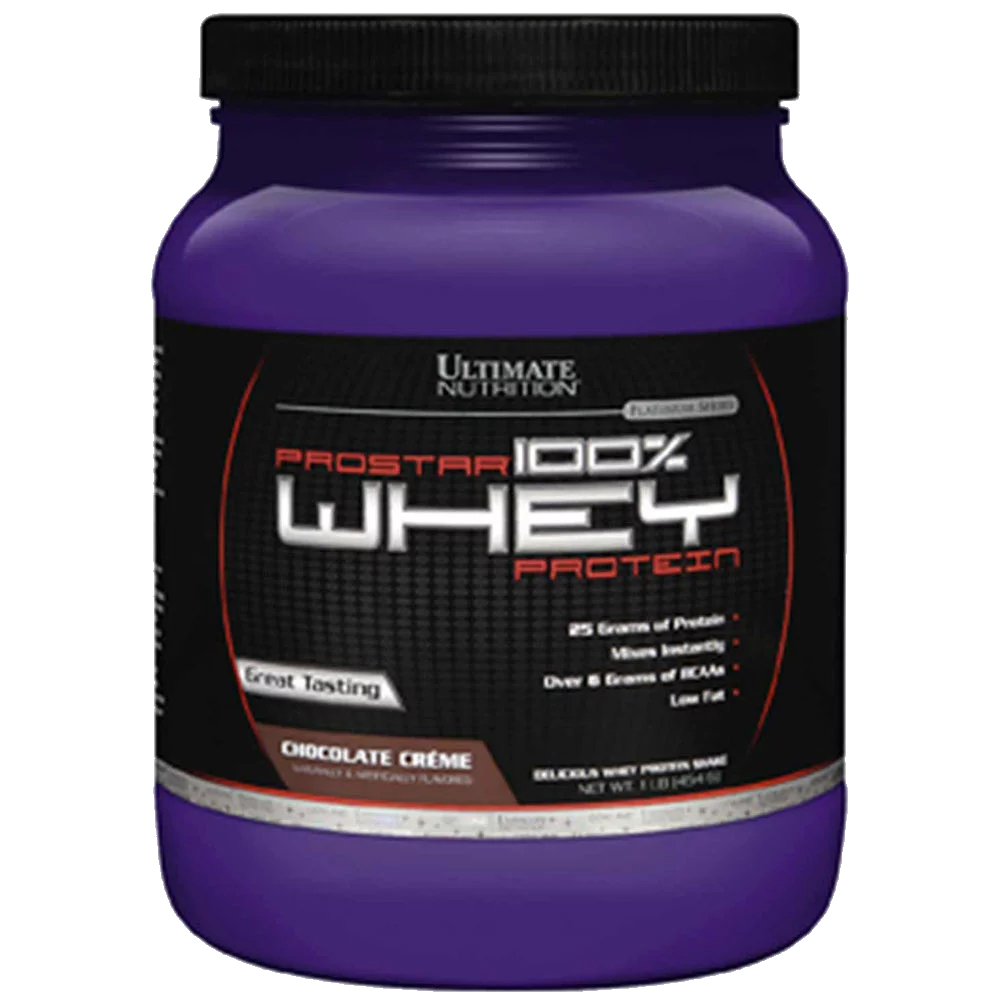 Ultimate Nutrition has designed 100% Prostar Whey Protein to include all the essential and nonessential amino acids to build the muscle after intense exercise of both short and long duration. It is a customized blend of all the nutrients, including immune enhancing factors from whey protein by a specialized process. Since exercise can take a toll on the immune system, 100% Prostar Whey Protein is the nutritional supplement of choice for those who lead an active lifestyle. 100% Prostar Whey Protein is not just for the athlete however. It supports the muscle maintenance, buildup and toning among individuals who are merely "weekend warriors." Ultimate Nutrition's 100% Prostar Whey Protein is, indeed, the nutrition for the champions!
SERVING SIZE: 30 grams (120 Calories, 25g Protein & 6007mg BCAAs)

BENEFITS: Promotes muscle recovery and repair. Builds Muscle

SUGGESTED USE: Mix 1 scoop (30 grams) of Ultimate Nutrition Prostar 100% Whey Protein into 8oz of water or milk.
VAT Registered 0-8335-51002-73-1
We generally will ship and send the tracking number for your whey protein and supplements within 30 minutes of your order during regular business hours! (Excluding public holidays).
PhuketHealthShop.com was founded in 2009 by Nai Harn Gym with the simple idea of providing affordable whey protein, bodybuilding supplements, and vitamins to people living in Thailand. What began as a very small operation shipping only a few orders a day, has steadily grown into a business serving over 50,000 customer across Thailand in just 7 years.
PhuketHealthShop.com is now pleased to carry over 200+ whey protein and supplement products from leading companies such as Optimum Nutrition, Universal Nutrition, MuscleTech, Ultimate Nutrition, Six Pack Fitness, and Grizzly Fitness to name a few.
We offer fast FREE Shipping*, and unparalleled reliability and trust our customers have come to expect.