Ultimate Nutrition Muscle Juice Revolution 2600 4.7lbs
99071002303(base)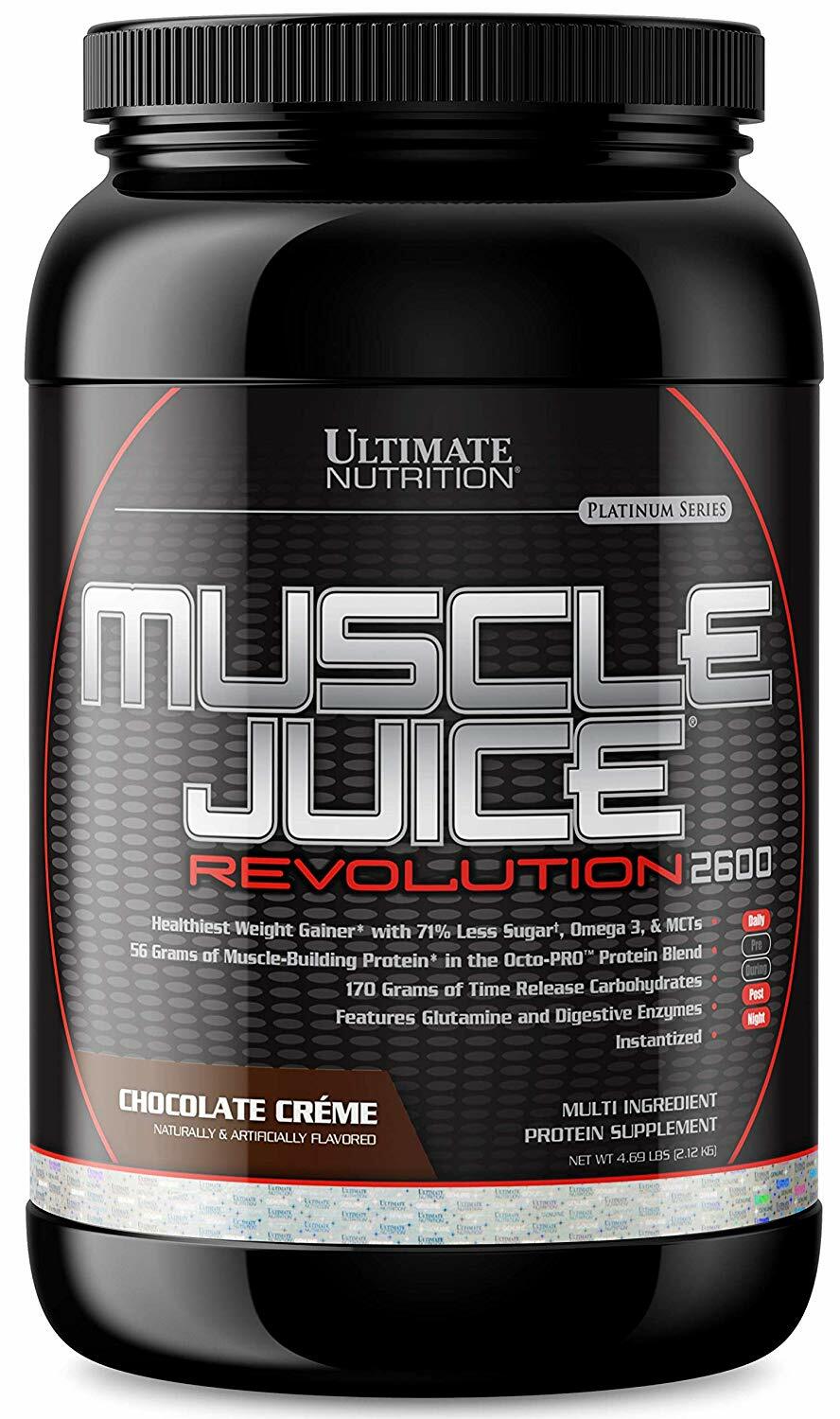 Muscle Juice Revolution 2600 Overview

Pack more protein into your everyday diet by adding a delicious glass of Muscle Juice Revolution 2600 from All Star Health. The elite formula contains a special blend of powerful Octo-PRO proteins along with a scientifically proven ratio of carbohydrates, healthy fats and digestive enzymes. This lean mass building formula is designed to super-charge your diet with pure-protein, delivering the nutrition you need to bounce back after a tough workout. The Octo-PRO elite protein blend consists of whey protein concentrates, whey isolates, milk protein isolates, hydrolyzed whey protein, egg protein isolate, micellar casein and calcium caseinate protein. These proteins provide an incredibly diverse array of powerful amino acids that are absorbed at different rates by the body, helping you maintain positive nitrogen retention for extended periods of time.
Muscle Juice Revolution 2600 also includes a combination of protease and lactase enzymes. These digestive aids help the body utilize milk-based proteins, like the ones that make up Muscle Juice. These enzymes are not always included in other mass gainers, but studies show inclusion of protease and lactase significantly improve amino acid absorption and utilization, which is why a full serving of each is included in Muscle Juice Revolution 2600.
Of course, healthy fats are also an important part of a balanced diet. To make sure you're getting enough healthy lipids, Muscle Juice Revolution 2600 also includes a blend of MCTs, CLA and omega-3 fish oils. With 9 grams of healthy fats per serving, Muscle Juice Revolution 2600 has one of the most robust lipid profiles of any mass gainers on the market. It also features a glutamine boost blend consisting of l-glutamine and l-alanyl-l-glutamine to help improve muscle recovery and increase lean gains. Stop wasting your time on inferior weight gainers and focus your efforts where you'll really see results. Pick up some Muscle Juice Revolution 2600 to see and feel the difference a high-quality, protein-packed weight gainer can make.
Muscle Juice Revolution 2600 Description from Ultimate Nutrition
Ultimate Nutrition Muscle Juice Revolution 2600 is the ULTIMATE weight gainer on the market. It features 56 grams of protein in the exclusive Octo-PRO Protein blend that combines 8 key proteins. It contains 170 grams of time release carbohydrates to aid in carbohydrate digestion time to minimize bloating. In addition to the precursors to glutamine present in this protein, you get 1000 mg of glutamine per serving which includes the breakthrough L-Alanyl-L-Glutamine. This powerful dipeptide may protect against muscle degradation and provides fuel for exercise to help you go the distance. When you take 2 servings a day, as directed, with milk, you will receive 2600 more calories and 148 more grams of protein to help you exceed your weight gaining goals.
Supplement Facts
Serving Size: 265 grams
Servings Per Container: 8
Ingredient
Amount
% Daily Value**
Calories
1020
-Calories from Fat
80
Total Fat
14g
22
-Saturated Fat
3g
15
Cholesterol
170mg
57
Sodium
150mg
6
Total Carbohydrates
170g
57
-Sugars
18g
Protein
56g
112
Calcium
40
Iron
4
Octo-PRO Protein Blend
70g
†
-Whey Protein Concentrate, Whey Protein Isolate, Milk Protein Isolate, Hydrolyzed Whey Protein, Egg
-Protein Isolate, Micellar Casein, Milk Protein Concentrate, Calcium Caseinate
Time Release Complex Carbohydrate Blend
175g
†
-Corn Maltodextrin, Rice Maltodextrin, Karbo-lyn
Healthy Fatty Acid Blend
9g
†
-Canola Oil, MCT (Medium Chain Triglycerides, Omega 3 Fish Oil, CLA (Conjugated Linoleic Acid)
Glutamine Blend
1000mg
†
-L-Glutamine, L-Alanyl-L-Glutamine
Enzyme Blend
50mg
†
-Protease, Lactase
** Percent Daily Value is based on a 2000 calorie diet. Your daily values may be higher or lower depending on your calorie needs.
† Daily Value not established.

Contains Milk, Egg, Soy, and Fish (Herring, Anchovy, Mackerel, Sardine, Menhaden, Smelt, Tuna, Sand Lance, Salmon)

Ingredients:
Other Ingredients: Cocoa, Sodium Chloride, Sucralose, Acesulfame Potassium, Soy Lecithin and Natural and Artificial Flavors
Manufacturer's Directions
Mix four scoops of Ultimate Nutrition Muscle Juice Revolution 2600 (about 265 grams) with 18 fl oz (532 mL) of water or milk. To maximize muscle gains and enhance your exercise program, take one serving in the morning, and a second serving one hour after your training session. On non-training days, take one serving between meals in the morning and a second serving between meals in the afternoon. Due to the time release nature of Ultimate Nutrition Muscle Juice Revolution 2600, it is the perfect gainer to be taken right before bed.
Manufacturer's Disclaimer

If you have a medical condition or are using a prescription medicine, consult a health care professional before using this or any dietary supplement. If you are a competitive athlete, check with your sports association before using this product. Do not use this product if you are pregnant or nursing. Not recommended for use by those under the age of 18.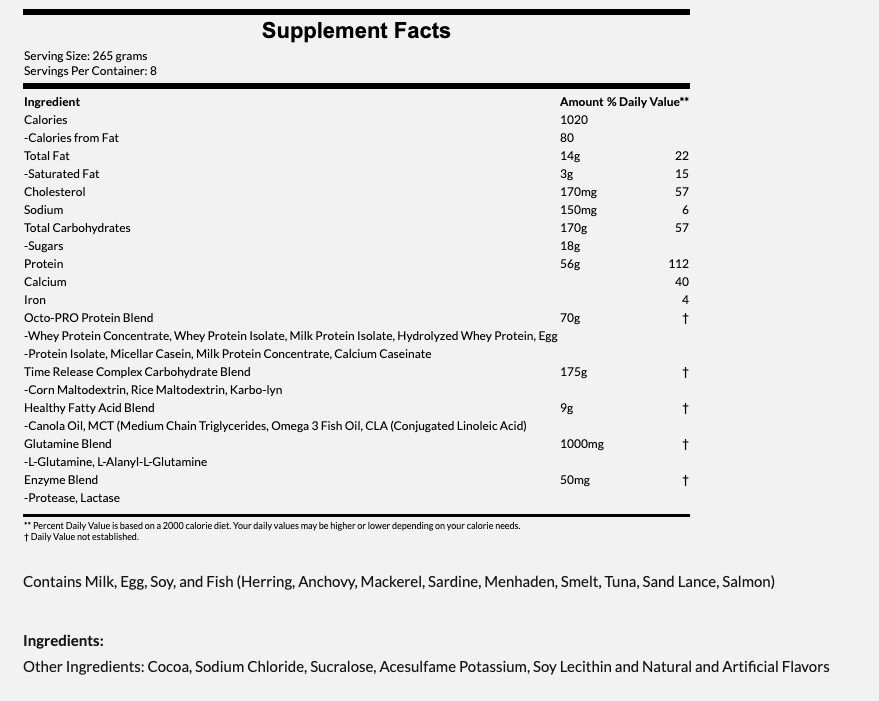 VAT Registered 0-8335-51002-73-1
We generally will ship and send the tracking number for your whey protein and supplements within 30 minutes of your order during regular business hours! (Excluding public holidays).
PhuketHealthShop.com was founded in 2009 by Nai Harn Gym with the simple idea of providing affordable whey protein, bodybuilding supplements, and vitamins to people living in Thailand. What began as a very small operation shipping only a few orders a day, has steadily grown into a business serving over 50,000 customer across Thailand in just 7 years.
PhuketHealthShop.com is now pleased to carry over 200+ whey protein and supplement products from leading companies such as Optimum Nutrition, Universal Nutrition, MuscleTech, Ultimate Nutrition, Six Pack Fitness, and Grizzly Fitness to name a few.
We offer fast FREE Shipping*, and unparalleled reliability and trust our customers have come to expect.