ProMax Protein Bars 12 bars
743659125839(base)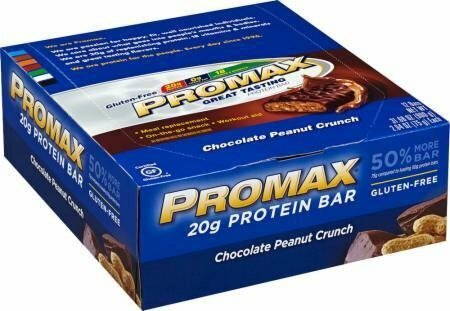 Promax Bar
Protein Bar
20g Protein
2:1 Carbs to Protein
0g Trans Fat
No Artificial Sweeteners
18 Vitamins & Minerals
Gluten Free
Protein For The People
Promax Original provides you with energy to keep going strong from work, to school, to the gym, and back again. For your workout, the 2:1 carb/protein mix helps fuel and replenish muscles and restore glycogen. Consider this delicious, satisfying snack as the one little secret weapon to help make your busy day a great one.
Promax Lower Sugar Protein Bar
High Protein Fuel For Everyday
18g Protein
9g Sugar
14g Fiber
No Artificial Sweeteners
Excellent Source of Fiber
Certified Gluten-Free
High Protein Fuel For Everyday
Are you looking for a great tasting, satiating on-the-go snack or occassional light meal replacement? PROMAX LOWER SUGAR bar has 18g of complete, high quality protein, 9g of sugar, and is an excellent source of fiber. Plus there's no maltitol, artificial sweeteners or gelatin. Fuel your lifestyle with PROMAX LOWER SUGAR.
VAT Registered 0-8335-51002-73-1
We generally will ship and send the tracking number for your whey protein and supplements within 30 minutes of your order during regular business hours! (Excluding public holidays).
PhuketHealthShop.com was founded in 2009 by Nai Harn Gym with the simple idea of providing affordable whey protein, bodybuilding supplements, and vitamins to people living in Thailand. What began as a very small operation shipping only a few orders a day, has steadily grown into a business serving over 50,000 customer across Thailand in just 7 years.
PhuketHealthShop.com is now pleased to carry over 200+ whey protein and supplement products from leading companies such as Optimum Nutrition, Universal Nutrition, MuscleTech, Ultimate Nutrition, Six Pack Fitness, and Grizzly Fitness to name a few.
We offer fast FREE Shipping*, and unparalleled reliability and trust our customers have come to expect.