Optimum Nutrition Platinum Hydrowhey 3.5lb
748927026382(base)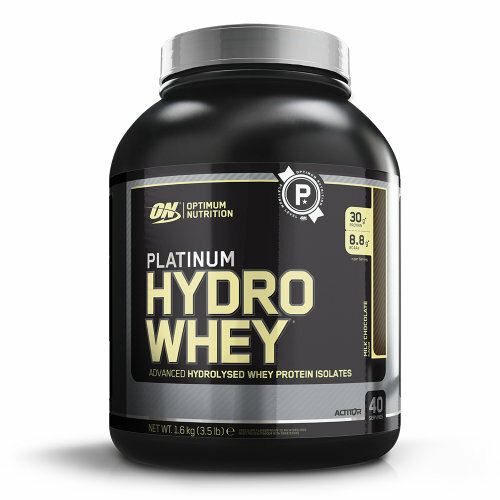 Platinum Hydrowhey
By hydrolyzing the protein in this premium formula we've created our fastest-acting whey protein yet.* Hydrolyzing breaks larger proteins down into smaller pieces that are able to get into your system rapidly, enabling your muscles to start rebuilding quickly.* For added effectiveness, we've also enhanced this revolutionary formula with ACTITOR™ peptides, digestive enzymes and micronized branched chain amino acids (BCAAs). In addition to being fast, Platinum Hydrowhey is also ultra-pure.* That's because it's made entirely with hydrolyzed whey protein isolates. So there's no excess fat, cholesterol, or lactose to slow down your progress.
Made with Advanced Hydrolyzed Whey Protein Isolates for Faster Delivery*
30 Grams of Ultra-Pure Protein per Serving
Nearly 9 Grams of Leucine, Isoleucine, and Valine (BCAAs)
Includes Patent-Pending ACTITOR™ Peptides
Just 5mg Cholesterol
Contains Digestive Enzymes for Enhanced Utilization*
Instantized to Mix Easily with a Spoon
ON's MOST VALUABLE MUSCLE BUILDING PROTEIN YET
By combining the absolute finest ingredients with a series of highly specialized processing techniques Optimum Nutrition (ON) has created its most valuable muscle building protein yet.* Everything about Platinum Hydrowhey® was designed with an uncompromising attitude toward performance - both in the gym and your shaker cup.
PURE PERFORMANCE
Platinum Hydrowhey® is protein in its purest expression. It's made only with hydrolyzed whey proteins that have been isolated to remove the excess lactose, cholesterol, carbohydrates, and fat. The result is a product that's ultra-pure, quickly digested, and packed with muscle building and replenishing amino acids.*
FEED YOUR MUSCLES FAST
100% of the proteins in Platinum Hydrowhey® are hydrolyzed to varying degrees. Hydrolyzing is a process through which intact proteins are strategically broken down into smaller fragments, called peptides, for faster delivery and easier utilization by your body. ON's exclusive combination of mild, moderate, and ultra-hydrolyzed proteins provides di-, tri-, and oligo-peptides while retaining select microfractions naturally found in whey. If this is too much technical talk, all that you really need to understand is that Platinum Hydrowhey® is ideal first thing in the morning, before workouts, and immediately after workouts when your hard-working muscles benefit most from a fast-acting protein.*
THE BEST MADE EVEN BETTER
All proteins are made up of amino acids, but not all amino acids are of equal importance. The three branched chain amino acids (BCAAs) are particularly beneficial for athletes because they assist with new muscle synthesis and protect the muscle that you already have against breakdown.* That's why ON enhanced every serving of Platinum Hydrowhey® with added BCAAs for a total of over 8,800 mg per scoop.
PRECIOUS ON THE PALATE TOO
The only way to reap the results of Platinum Hydrowhey® is to drink it. So from the outset, ON benchmarked the taste and mixibility against the best protein powders on the market. Regardless of whether you choose Turbo Chocolate or Velocity Vanilla, Platinum Hydrowhey® tastes as great as it works and dissolves easily in water, milk, or juice.
STACK THE GAINS
Try using complementary nutrients and mixing in other performance supplements to boost the functionality of your Platinum Hydrowhey® shakes.
Directions For Platinum Hydrowhey:

Platinum Hydrowhey® is INSTANTIZED, so it always mixes up easily and completely. Simply add 1 scoop of Platinum Hydrowhey®to a blender, shaker cup, or glass filled with 12 ounces of cold water, milk, or juice and blend, shake, or stir for 20-30 seconds or until powder is dissolved. TIP: Adjust the intensity of your Platinum Hydrowhey® shake by varying the amount of liquid you use to prepare it. For a slightly thicker consistency with a bolder flavor, mix each scoop with 10 ounces of water. For a milder tasting less sweet shake, use 14-16 ounces of liquid per scoop.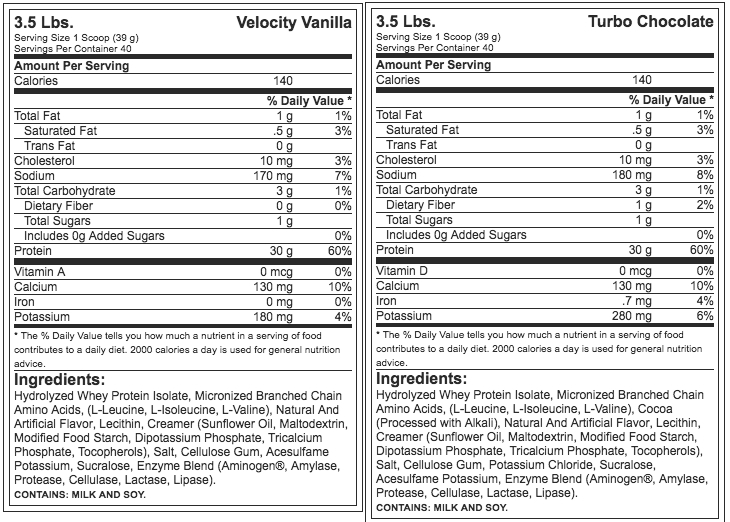 VAT Registered 0-8335-51002-73-1
We generally will ship and send the tracking number for your whey protein and supplements within 30 minutes of your order during regular business hours! (Excluding public holidays).
PhuketHealthShop.com was founded in 2009 by Nai Harn Gym with the simple idea of providing affordable whey protein, bodybuilding supplements, and vitamins to people living in Thailand. What began as a very small operation shipping only a few orders a day, has steadily grown into a business serving over 50,000 customer across Thailand in just 7 years.
PhuketHealthShop.com is now pleased to carry over 200+ whey protein and supplement products from leading companies such as Optimum Nutrition, Universal Nutrition, MuscleTech, Ultimate Nutrition, Six Pack Fitness, and Grizzly Fitness to name a few.
We offer fast FREE Shipping*, and unparalleled reliability and trust our customers have come to expect.