Yes! We are 100% Operational and Ready to Serve Our Customers During Covid-19
Optimum Nutrition Opti-Men 90 tablets
748927052237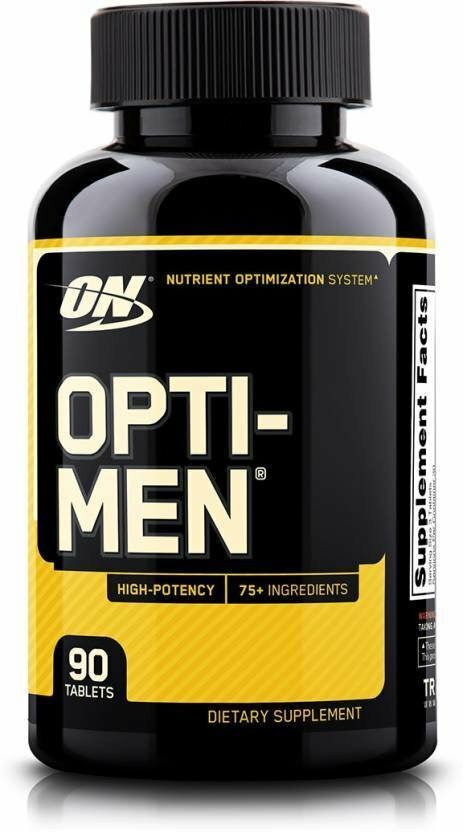 Opti-Men
Active Ingredients and Essential Daily Nutrients in One Convenient Tablet*
Daily Multivitamin for Overall Men's Health*
70 ACTIVE INGREDIENTS
HIGH-POTENCY VITAMINS & MINERALS
NOW WITH 5X MORE VITAMIN D (1500 IU)
EASIER TO SWALLOW TABLETS
275+ MG OF B COMPLEX VITAMINS
1,000 MG OF KEY FREE-FORM AMINO ACIDS
THE TRUE STRENGTH OF OPTI-MEN
Optimum Nutrition's Opti-Men is a complete Nutrient Optimization System providing 70+ active ingredients in 4 blends specifically designed to support the nutrient needs of active men. Taken as a single tablet at breakfast, lunch and dinner, our new & improved multi provides 22 vitamins and essential minerals - including 1,500 IU of Vitamin D, free form amino acids, botanical extracts and antioxidants in foundational amounts that can be built upon through consumption of a healthy balanced diet. Think of Opti-Men as potent nutritional insurance for your fitness lifestyle.
BEYOND THE BASICS: 4 PERFORMANCE BLENDS
Amino-Blend Including Arginine, Glutamine & BCAAs - the Building Blocks of Lean Muscle
Viri-Blend8 Exotic Botanicals & Marine Concentrates
Phyto-BlendOver 20 Fruit & Vegetable Concentrates
EnzyME-Blend 4 Digestive Enzymes
Serving Size 3 Tablets

Servings Per Container 30

Amount Per Serving

% Daily Value

Vitamin A (As beta Carotene, Natural Mixed Carotenoids)

10,000 IU

200%

Vitamin C (As Ascorbic Acid)

300 mg

500%

Vitamin D (As Cholecalciferol)

1,500 IU

375%

Vitamin E (As D-Alpha Tocopherol Succinate)

200 IU

667%

Vitamin K (As Phytonadione)

75 mcg

94%

Thiamin (As Thiamin Hydrochloride)

75 mg

5,000%

Riboflavin

75 mg

4,412%

Niacin (As Niacinamide)

75 mg

375%

Vitamin B6 (As Pyridoxine Hydrochloride)

50 mg

2,500%

Folic Acid

600 mcg

150%

Vitamin B12 (As Cyanocobalamin)

100 mcg

1,667%

Biotin

300 mcg

100%

Pantothenic Acid (As D-Calcium Pantothenate)

75 mg

750%

Calcium (As Calcium Carbonate, Citrate)

50 mg

5%

Iodine (As Kelp)

150 mcg

100%

Magnesium (As Magnesium Oxide, Aspartate)

80 mg

20%

Zinc (As Zinc Citrate)

15 mg

100%

Selenium (As Selenomethionine)

200 mcg

286%

Copper (As Copper Gluconate)

2 mg

100%

Manganese (As Manganese Gluconate)

2 mg

100%

Chromium (As Chromium Gtf)

120 mcg

100%

Molybdenum (As Molybdenum A.A. Chelate)

80 mcg

107%

Amino Blend

1

g

†

L-Arginine, L-Glutamine, L-Valine, L-Leucine, L-Isoleucine, L-Cystine, L-Lysine, L-Threonine

Phyto Men Blend

100

mg

†

Green Tea Powder (leaf), Hesperidin Complex (fruit), Deodorized Garlic Powder (bulb), Grape Seed Extract, (standardized to 95% polyphenol) (seed), Fruit Blend [Orange Powder (fruit), Pineapple Powder (fruit), Apple Powder (fruit), Grape Powder (fruit), Blueberry Powder (fruit), Cranberry Powder (fruit), Papaya Powder (fruit), Elderberry Powder (fruit), Bilberry Powder (fruit), Black Currant Powder (fruit), Kiwi Powder (fruit)], and Vegetable Blend [Wild Yam Powder (root), Carrot Powder (root), Spinach Powder (leaf), Cauliflower Powder (head), Kale Powder (leaf), Brussels Sprouts Powder (edible head), Broccoli Powder (whole plant)]

Viri Men Blend

50

mg

†

Saw Palmetto Extract (berry), Damiana Extract (leaf), Panax Ginseng Extract (root), Ginkgo Biloba Powdered Extract (leaf), Nettles Powdered Extract (leaf), Pumpkin Extract (seed), Raw Oyster Concentrate

Enzy Blend

50

mg

†

Papain, Bromelain, alpha Amylase, Lipase

Alpha-Lipoic Acid

25 mg

†

Paba (Para-Aminobenzoic Acid)

10 mg

†

Choline (As Choline Bitartrate)

10 mg

†

Inositol

10 mg

†

Silica

5 mg

†

Boron

2 mg

†

Lycopene (Lyc-O-Mato®)

500 mcg

†

Lutein

500 mcg

†

Alpha Carotene

140 mcg

†

Vanadium

100 mcg

†

Cryptoxanthin

34 mcg

†

Zeaxanthin

28 mcg

†

† Daily Value not established

Other Ingredients:

Microcrystalline Cellulose

, Stearic Acid

, Croscarmellose Sodium

, Pharmaceutical Glaze No. 2

, Magnesium Stearate

, Silica.

Allergen Information: Contains Shellfish (Oyster) Ingredients.
Directions For Opti-Men: As a dietary supplement for men, consume 3 tablets daily with food.
VAT Registered 0-8335-51002-73-1
We generally will ship and send the tracking number for your whey protein and supplements within 30 minutes of your order during regular business hours! (Excluding public holidays).
PhuketHealthShop.com was founded in 2009 by Nai Harn Gym with the simple idea of providing affordable whey protein, bodybuilding supplements, and vitamins to people living in Thailand. What began as a very small operation shipping only a few orders a day, has steadily grown into a business serving over 50,000 customer across Thailand in just 7 years.
PhuketHealthShop.com is now pleased to carry over 200+ whey protein and supplement products from leading companies such as Optimum Nutrition, Universal Nutrition, MuscleTech, Ultimate Nutrition, Six Pack Fitness, and Grizzly Fitness to name a few.
We offer fast FREE Shipping*, and unparalleled reliability and trust our customers have come to expect.