Optimum Nutrition Amino Energy
748927026665(base)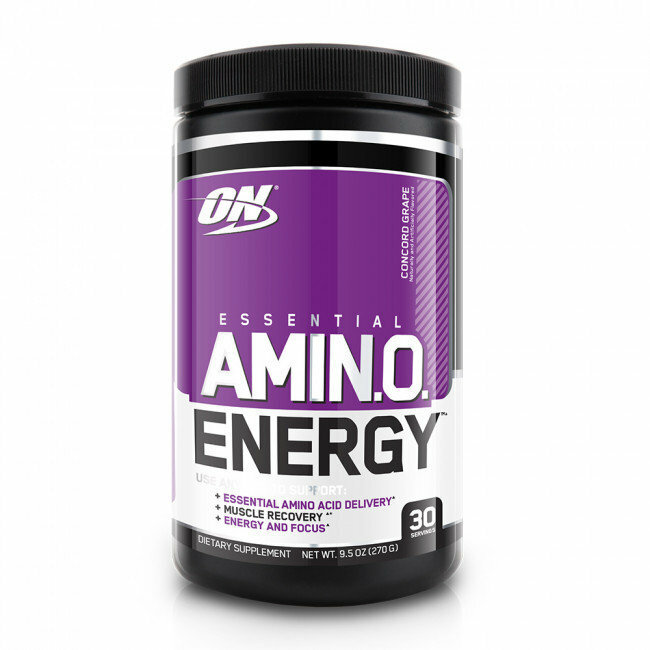 Essential AmiN.O. Energy
Amino Acid Powder for Increased Energy*

Train Longer and Harder with Intense Energy and Focus*

THE ORIGINAL ANYTIME ENERGY MIX


Choose from:
12 Fruit Flavors
4 Cafè Series Flavors
4 Naturally Flavored Options


All with 100 MG Caffeine from Natural Sources & 5 G Micronized Free Form Amino Acids


Consistently One of Bodybuilding.com's Top Products


Made in ON Operated Facilities that are NSF Certified for SportDirections For Essential AmiN.O. Energy:
Mix two scoops of ESSENTIAL AMINO ENERGY in 10-12 oz of cold water.

FOR AN AMINO ACID BOOST: Consume one or more servings first thing in the morning and/or between meals.
FOR PRE-WORKOUT ENERGY: Take 1-3 servings 20-30 minutes before training.
FOR POST-WORKOUT RECOVERY: Take 1-2 servings immediately after training.

Do not exeed more than 5 servings per day.

TIPS: ESSENTIAL AMINO ENERGY contains 50 mg of caffeine per scoop, so do not consume after 5:00 PM if you have difficulty sleeping. ESSENTIAL AMINO ENERGY also contains beta-Alanine and may cause a temporary tingling sensation on your skin. This is normal. With continued use, the intensity of the sensation will decrease or disappear. Also, some people may have a sensitive stomach and will not tolerate green tea extract well on an empty stomach. If this is you, be sure to take with meals.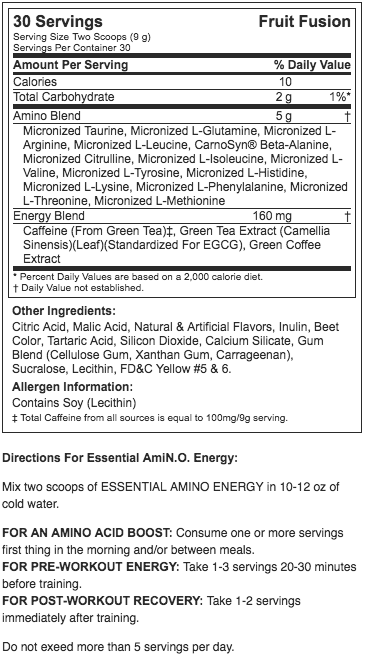 VAT Registered 0-8335-51002-73-1
We generally will ship and send the tracking number for your whey protein and supplements within 30 minutes of your order during regular business hours! (Excluding public holidays).
PhuketHealthShop.com was founded in 2009 by Nai Harn Gym with the simple idea of providing affordable whey protein, bodybuilding supplements, and vitamins to people living in Thailand. What began as a very small operation shipping only a few orders a day, has steadily grown into a business serving over 50,000 customer across Thailand in just 7 years.
PhuketHealthShop.com is now pleased to carry over 200+ whey protein and supplement products from leading companies such as Optimum Nutrition, Universal Nutrition, MuscleTech, Ultimate Nutrition, Six Pack Fitness, and Grizzly Fitness to name a few.
We offer fast FREE Shipping*, and unparalleled reliability and trust our customers have come to expect.