Finaflex Stimul8 40 servings
1007712(base)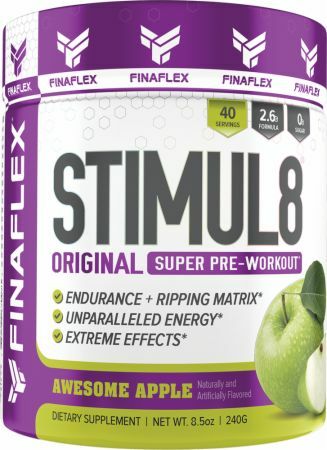 PRODUCT OVERVIEW
STIMUL8
THE ORIGINAL SUPER PRE-WORKOUT TO STIMULATE WORKOUTS*
ULTIMATE SUPER PRE-WORKOUT*
ENDURANCE + RIPPING MATRIX*
6 ULTRA-INTENSE FLAVORS
EXTREME ENERGY FOR HOURS*
TO DETERMINE TOLERANCE START WITH 1/2 SVG
STIMUL8
INTRODUCING STIMULUS
FINAFLEX STIMUL8 is an Ultimate Super Pre-Workout built for both men and women that STIMULATES your workout like never before! The tested and true STIMUL8 formula is powered by ingredients designed to provide you with the energy, strength, and endurance needed to take your workouts to the next level!*
BUILT WITH IRISNXD
STIMUL8 features a combination of ingredients that can only be found in FINAFLEX formulas, called IRISINXD. The ingredients contained in IRISINXD have been shown in research to benefit and support body healthy composition, or the ability to build muscle while burning fat!* Combining IRISINXD with other shredding and muscle building ingredients creates the ultimate preworkout formula!*
START WITH 1/2 SERVING
You read it right...start with 1/2 a serving! The STIMUL8 formula is SO STRONG that most users need to start with a 1/2 serving (1/2 scoop) to determine tolerance. Make no mistake, STIMUL8 is not a 2, 3, or 4 scoop product! Due to the extreme effects formula, most men & women find that 1/2 serving is just right! When in doubt start with a 1/2 serving of STIMUL8 to assess tolerance, do not exceed recommended dosage.
HOW DOES STIMUL8 WORK IN YOUR BODY?
ENERGY*
STRENGTH*
ENDURANCE*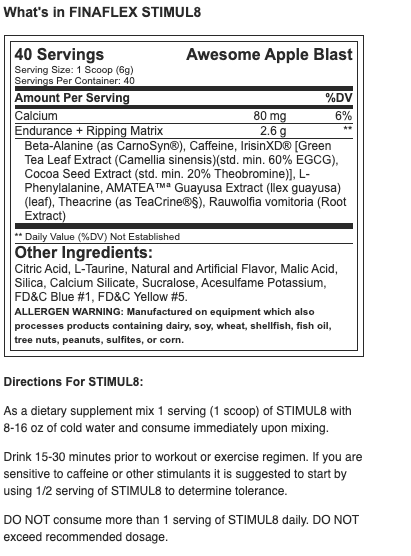 VAT Registered 0-8335-51002-73-1
We generally will ship and send the tracking number for your whey protein and supplements within 30 minutes of your order during regular business hours! (Excluding public holidays).
PhuketHealthShop.com was founded in 2009 by Nai Harn Gym with the simple idea of providing affordable whey protein, bodybuilding supplements, and vitamins to people living in Thailand. What began as a very small operation shipping only a few orders a day, has steadily grown into a business serving over 50,000 customer across Thailand in just 7 years.
PhuketHealthShop.com is now pleased to carry over 200+ whey protein and supplement products from leading companies such as Optimum Nutrition, Universal Nutrition, MuscleTech, Ultimate Nutrition, Six Pack Fitness, and Grizzly Fitness to name a few.
We offer fast FREE Shipping*, and unparalleled reliability and trust our customers have come to expect.